Revealing the Beauty of Realism Painting
Nov 02, 2023
Realism painting is one of the most interesting and amazing art styles in the history of art. Realism in painting creates works that appear as if they are real and identical to the objects depicted in the painting. Realism-style painting emphasizes the objects or atmospheres depicted, This painting style neither alters nor adds anything when the real object is poured into the canvas, including colours, textures, lighting, composition, and form of the real object. It contains no style of exaggeration; everything depicted corresponds to the actual objects as they exist.
Realist-style paintings are often employed to portray portraits and other everyday objects. Realism-style paintings can be the perfect choice to enhance and complete your painting collection. Global Auction features several realist-themed paintings by artists with extraordinary talents.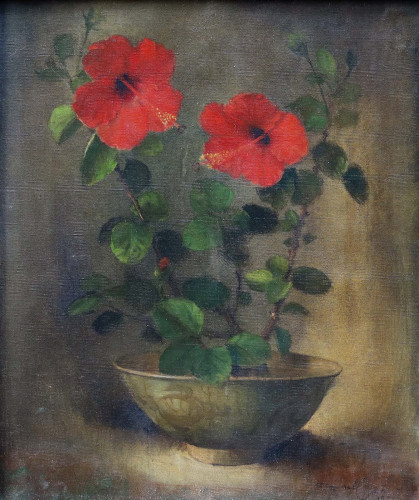 One of these artists is Dullah, a painter who was close to former President Ir. Soekarno is renowned for his realist techniques and style. In his painting "Red Hibiscus," Dullah beautifully captures red hibiscus flowers, complete with green leaves adorning the flowers. Dullah pays great attention to the placement and the natural positioning of the hibiscus flowers, which are arranged in dark patterned pots.
The next collection of realist paintings comes from Basoeki Abdullah, a maestro famous for his realist figurative-themed works. It's no surprise that Abdullah has received extensive recognition both in Indonesia and internationally. In the painting "Royal International Artist," Abdullah portrays a self-portrait. The title "Royal International Artist" indeed characterizes Abdullah as a maestro appointed as the state palace painter directly by President Soekarno. Additionally, Abdullah has depicted nearly 100 important figures, kings, and queens from around the world.
Another realist painting suitable for your collection is "Pande Nyoman Antaredja" by Rudolf Bonnet. As a skilled painter, Bonnet always paid attention to the proportions of the figures he painted, as is evident in this painting. Beautifully, Bonnet portrays a Balinese man with brown skin and captivating eyes, adorned with frangipani flowers tucked between his hair and ears, a characteristic unique to Balinese society.
Visit us for our preview at Global Auction and take part in our online live auction on the 7th of November 2023 at 7 PM (JKT). Feel free to register and submit your bids promptly. Should you have any questions or require assistance, please don't hesitate to get in touch with one of our marketing specialists.